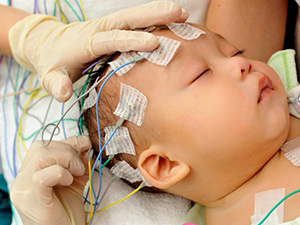 EEG (ELECTROENCEPHALOGRAM) AND VIDEO-EEG
EEG refers to the recording of the brain's spontaneous electrical activity over a short period of time, usually 20–40 minutes as recorded from multiple metal discs/electrodes placed on the scalp. Video EEG includes simultaneous video recording of the during EEG record.
An EEG is one of the main diagnostic tests for epilepsy. EEG also plays important role in diagnosis of other brain disorders.

To prepare for EEG
Wash your hair the night before or the day of the test, but don't use any conditioners, hair creams, sprays or styling gels.
Avoid anything with caffeine six hours before the test.
Take your usual medications unless instructed otherwise.
If you're supposed to sleep during your EEG test, your doctor may ask you to sleep less or even avoid sleep entirely the night before your EEG. If you have trouble falling asleep for the test, you might be given a sedative to help you relax.